Search criteria

New Caledonia - yacht charter, tourist guide, descriptions, routes, photos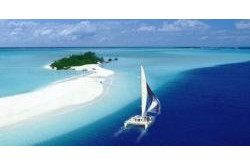 Remote islands at the end of the world bathed in a variety of blue ocean shades. New Caledonia consists of four islands dependent on France. Discovered in 1774, they delight visitors with its exotic flora, the shining sun, and winds all year round.
Being part of the Melanesia subregion, New Caledonia lies between New Zealand and Australia in the southwest of the Pacific Ocean. It includes the 350-kilometre long main island of Grand Terre with the capital in Noumea, and several smaller islands, such as Ile des Pins, the Loyalty Islands, and the Chesterfield Islands. Although New Caledonia was discovered by an English traveller and sailor James Cook in 1774, few tourists know about its existence. The island is a real paradise on earth, and a perfect spot for sailing, bathing, basking on the beach, observing whales, as well as for going for a horse ride, a drive in the mountains, canoeing, or fishing tuna, marlins, and other fish species.
The ruins of the former prison for French criminals await all lovers of adventures. It is part of history deeply grounded in New Caledonia, which used to be a French penal colony founded in 1864 for criminals and opponents of the authority. Humidity, numerous diseases, and dangerous animals decimated prisoners. Nowadays, tourists have a chance to visit the museum housed in the building whose furnishing alludes to the times of the prison, as well as guardians' barracks and the director's residence. Other places of interest include: Hienghène (a centre of the Kanak culture, indigenous inhabitants of New Caledonia), the Fort Teremba, Numea, as well as the cliffs in Bourail, the mine in Pilou, the Loyalty Islands (some of which are Ouvéa and Maré islands), mountains, lagoons, and coral reefs.

New Caledonia may serve as a form of escape for all sailors who seek peace and quiet. Crystal clear water, a part of the largest, 1700-kilometre long coral reef with colourful fish, sea stars, corals, numerous atolls and shipwrecks will all make the time under white sails more attractive. New Caledonia is just perfect for sailing voyages.
---
| | | |
| --- | --- | --- |
| | | |