Search criteria

Slovenia - yacht charter, tourist guide, descriptions, routes, photos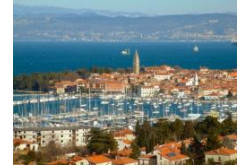 Although the Republic of Slovenia does not occupy a vast territory, it abounds in attractions standard for a country several times bigger. It is worth seeing with one's own eyes wonders of the local landscape, cuisine, architecture, as well as getting the first-hand experience of the sea breeze and great hospitality of inhabitants. Slovenia is a country that perfectly illustrates the meaning of the words "small is beautiful".
Slovenia is a small country neighbouring Croatia, Hungary, Italy, and Austria. Its tourist assets are difficult to overestimate. Mountains occupy 90% of the whole territory (the highest peak Triglav is 2,863 metres above sea level), and thanks to its location by the Adriatic Sea, the country has a variety of summer leisure activities to offer to their tourists, including sailing. Admittedly, the coast, frequently referred to as the Slovenian Riviera, is only 46-kilometre long, but its beauty, as well as an impressive number of hotels and resorts, each year attract many tourists. Piran, Izola, and Koper, the largest cities in the country, also lie on the coast. They make perfect spots for all enthusiasts of water and jet skiing, canoeing, windsurfing, and obviously sailing.
Tourists who are fond of holidays "under the white sails" may choose from a wide range of available marinas and other accommodation facilities to stay the night and replenish the supplies. Sailing conditions on the Slovenia's coast are very favourable. What is more, the country's location makes it possible to sail in the direction of Italy and Croatia for free (the shipowners with whom we cooperate, have purchased special permits for sailing in these countries). Holidays in the Slovenian Riviera mean days full of sunshine spent on baths in warm, crystal clear seawater surrounded by unforgettable landscapes and historical buildings. It is also a chance to explore one of the most beautiful and still underestimated countries in Europe.
A perfectly organised yacht and catamaran fleet, very good conditions in marinas, and a chance to sail in Italy and Croatia will only add value to the time spent under the white sails. Slovenia definitely belongs to the places worth visiting.
---